Pre-Order now, limited stocks available. Due June 2022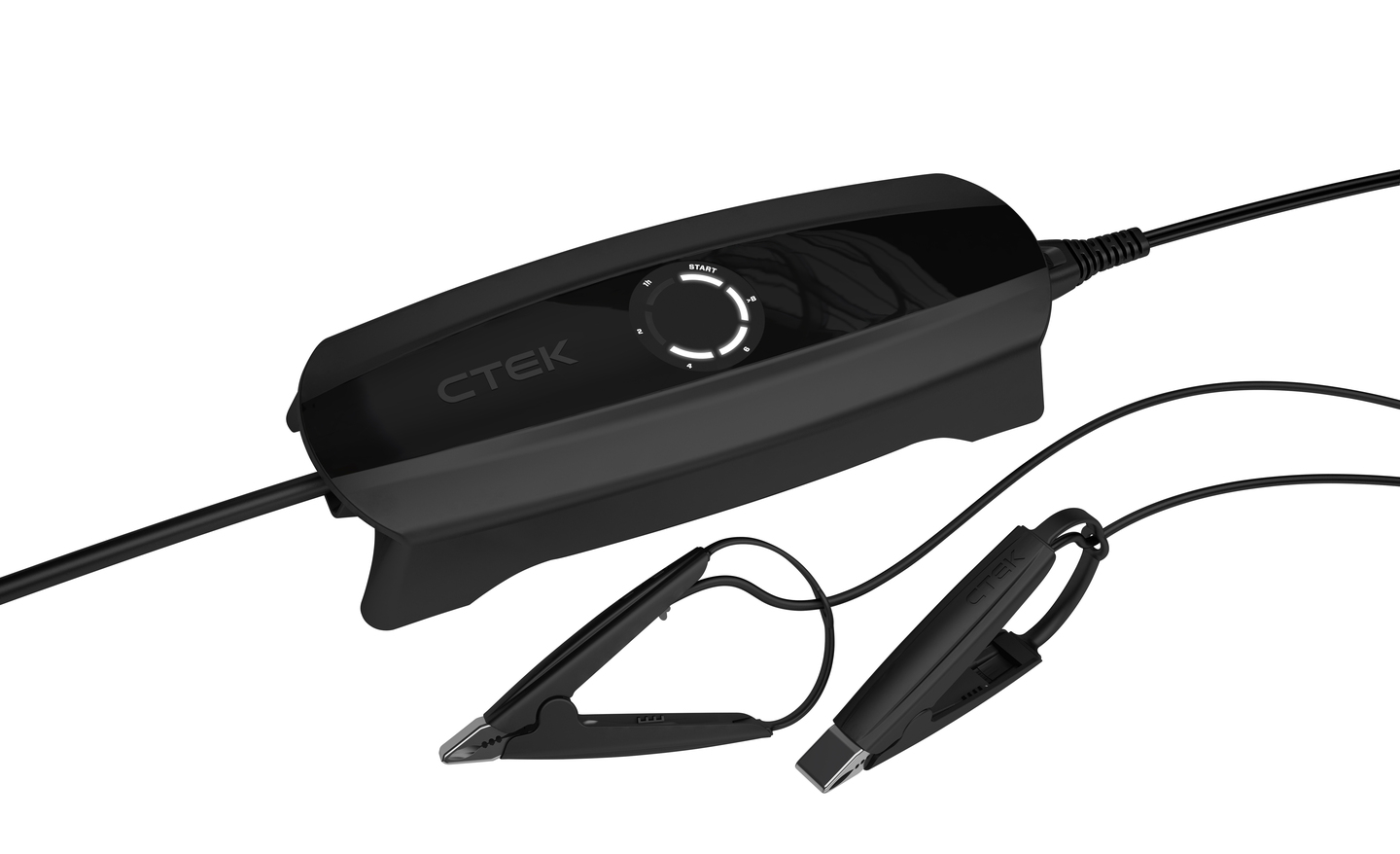 Revolutionary adaptive battery charger and maintainer
The latest in a long line of generational growth, the CTEK CS One re-writes charger functionality and ease of use. No more worrying about the positive or negative terminals and which way round they go. Just connect to the battery or the charging points and the charger will work out the rest. No more is it calcium, wet cell, AGM, or Lithium battery, the 8A charger works everything out for you. It's suitable for charging up to a 150Ah battery and can happily maintain that for an extended period of time while you are away or while the vehicle is in storage. If you have a smartphone with the CTEK Connect app installed you can also use advanced features like Recond mode, Power Supply mode, or Lithium Wake Up from BMS safety shutdown.
APTO™ Technology automatically recognises the type of battery you're using, and then automatically delivers a customised charging program, telling you how long until the battery is charged and ready to go. The clamps are spark free too, so don't worry if you accidentally touch them together. Unlock additional features using the Bluetooth® enabled CTEK App. Select 'RECOND' to restore and recondition your battery. Choose 'WAKE UP' for lithium batteries with under voltage protection or to bring deeply discharged lead-acid batteries back to life. Select 'SUPPLY' to turn the CS ONE into a useful 12 V supply. You can also monitor the voltage and amps being delivered by the charger.
Features
RECOND option to restore and recondition lead-acid batteries.
WAKE UP option to revive seemingly dead lithium and lead-acid batteries.
12V SUPPLY to support the battery during service work and retain contact power to the vehicle during battery replacement / removal.
ADVANCED SETTINGS to monitor charger voltage & amperage.
Can be left safely connected for long periods during maintenance charging.
New durable design to make it easy to handle, with unique mounting system on the back for quick connection to CS accessories.
5 year warranty.
The ONE and only with pure brain power
•    Super Smart and Super Simple
No buttons to press or modes to select – simply connect to any 12V lead-acid or lithium (LiFePO4) battery and leave it to do its work.
•    Adaptive Charging Technology (APTOTM)
Automatically works out what type and size of battery you've got and what it needs, then delivers a customised charging programme with the most appropriate charge.
•    Polarity Free Clamps
Just put one clamp on each charging point and the CS ONE will automatically work out which is the positive and which is the negative terminal.
•    Bad cell detection
The CS ONE can tell if your battery can't be charged – and will notify you.
•    Easy to understand display
Countdown indicator shows when you can restart your vehicle and how long to go until fully charged.