CTEK CS Free - The world's first Portable battery charger with Adaptive Boost technology
4 Technologies with 4 functions all within 1 product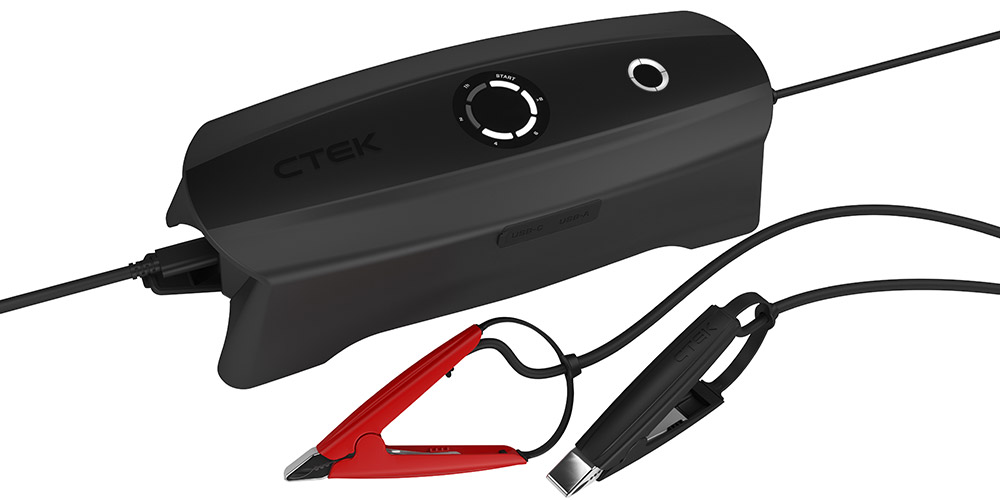 Portable Charger
Adaptive Booster
Smart Maintainer
PowerBank
CTEK CS FREE can charge and maintain any 12V lead-acid or lithium vehicle battery anywhere without being connected to a power outlet. And if your battery's flat, CS FREE's revolutionary Adaptive Boost technology will get you going within 15 minutes.

PORTABLE CHARGING WHEREVER YOU GO
Just charge up CS FREE's internal battery and keep it with you wherever you go, and it'll stay fully charged for up to a year. CS FREE automatically analyses the state of your battery and adjusts to the battery's voltage level. It then works out the safest and quickest way to give your battery the power it needs to start your vehicle within 15 minutes. CS FREE works anywhere and can even be powered by solar or a 12V battery for longer-term maintenance charging. It can be used to charge up any USB-A device like we have all become accustomed to but it also has the newer high power USB-C connection that can be used to charge devices at 5, 9, 12, 15, or 20 VDC like notebooks, portable speakers, smartphones or tablets making it a truly adaptable portable power and charging solution in one.
The CS Free is available now exclusively from Element 82 for $559 inc GST 
There is a range of accessories available to further enhance the charging power of the CS Free including a cig plug adaptor to recharge the internal battery from within a vehicle. A solar panel option for remote and off-grid charging and a Battery input connection to allow you to charge from one battery to another. All available separately.